Connect now with local schools!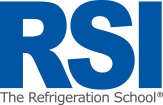 The Refrigeration School
The Refrigeration School (RSI) has trained individuals to become professional, entry-level Heating, Ventilation, Air Conditioning and Refrigeration (HVAC/R) technicians since 1965. RSI has since expanded its training and now offers multiple career-focused training opportunities. RSI's instructors are experienced industry professionals. RSI's training programs are designed based on industry feedback to meet employers' needs. RSI promotes a student-centric learning environment to support the learner who desires to put forth a great deal of effort to achieve his or her desired professional goals.
The RSI campus which is easily accessible from all parts of the Phoenix metropolitan area, includes two buildings with 21,000 square feet of classroom, lab, and support service facilities. An additional 5,400 square feet of outdoor shop area brings the total to over 26,000 square feet of training facilities.
We at RSI want to ensure that your education experience is a rewarding one. Please note that RSI offers ample support to all its students. We wish you the best in achieving your educational and professional goals.
Available Programs
Building Systems, Construction, and Manufacturing

This short 6-10 month Refrigeration Technologies program trains and prepares students for entry as service and maintenance technicians in jobs that utilize technologies employed in the fields of heating, ventilation, air conditioning and refrigeration (HVAC/R). Courses focus on the fundamentals of comfort systems and refrigeration. Climate control and refrigeration is almost everywhere, and trained installation, service and maintenance technicians can get their start in the Refrigeration Technologies program at RSI.

Refrigeration Technologies Program at RSI Offers:

Has day and evening classes available
Has a Career Services Department to help you transition from training to a career
Hands on HVAC/R training
Faculty and staff who care
Incorporates real world training with hands-on curriculum
Has services available to assist eligible military members and dependents access benefits Career Options

HVAC Career Options:HVAC/R Service Technician

HVAC/R Installation Technician
Refrigeration Service Technician
Refrigeration Installation Technician
Low-Temperature Field Technician
Restaurant & Retail Refrigeration Technician
Commercial Refrigeration Technician

Building Systems, Construction, and Manufacturing

The objective of this 3-5 month* program is to train and prepare students for entry as new construction and maintenance electricians. Students learn to install and maintain electrical equipment for residential and commercial structures as well as read blueprints and create job estimates. Upon successful completion of the course, the student should have an understanding of electrical principles, the National Electric Code (NEC) and how these apply to common buildings and facilities. A student will also have practical exposure to installation techniques, diagnostics, service and repair of electrical systems.

Electrical Technologies Program at RSI:

Day and evening classes available
Offers program completion in just 3-5 months*
Incorporates real-world training with hands-on curriculum
Includes training in the National Electric Code (NEC)

Electrician Career Options:

Maintenance Electrician
New Construction Electrician
Power Plant Field Technician

*Length pertains to graduating in normal time


Building Systems, Construction, and Manufacturing

The Welding Specialist program prepares a graduate for entry level positions in structural, pipe and pipeline, and thin alloy welding. Key welding processes include SMAW (stick), GMAW/FCAW (MIG/Fluxcore), and GTAW (TIG) welding procedures. Students learn welding safety, torch cutting processes, proper arc welding equipment setup, important welding control techniques, fundamental welding processes, and basic welding metallurgy. This intense program is primarily lab based and focuses on developing critical welding skills. Upon successful completion of this program, the graduate will receive a diploma and should possess the skills and knowledge to test for welder certification through the American Welding Society (AWS).


Building Systems, Construction, and Manufacturing

The Electrical Applications program at RSI trains students in the fundamentals of the following:

Mechanical and electrical principles
Residential and commercial wiring applications
Voice, video and data cabling systems
The application on motors, lighting, devices and various types of transformers

Students will receive a Diploma after successfully completing this program.

In as little as 7 months, you'll be trained with the skills necessary to enter the electrical industry as an electrician. Here are some of the career opportunities that await you:

Residential Electrician
Commercial Electrician
Industrial Electrician
Solar Panel Installer
Maintenance Electrician
Accreditation
The Refrigeration School is accredited by the Accrediting Commission of Career Schools and Colleges.
Disclosure
Accredited School, ACCSC. Licensed by the Arizona State Board for Private Post Secondary Education. The AOS/MME program is the Associate of Occupational Studies in Mechanical Maintenance Engineering degree program and is not an academic degree. GI Bill® Eligible (check with local campus for specific eligibility). For more information about our programs, please visit our website at: https://www.rsi.edu/about-rsi/regulatory-information/.