Connect now with local schools!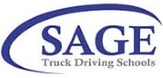 SAGE Truck Driving Schools
For 30 years, SAGE Truck Driving Schools have provided high quality, comprehensive professional tractor-trailer driver training to students and fleets across the country. More than 40,000 students from all over the country have received CDL training by SAGE's highly qualified instructors. Our mission is to make sure every student receives personal attention and hands-on training to make them the safest and most knowledgeable driver they can be.
Available Program
Truck Driving, Transportation, and Mechanics

The Comprehensive Tractor-Trailer Driver Basic is a comprehensive curriculum that provides the student with the substantial knowledge and practical skills necessary to become an entry-level over-the-road truck driver. The program consists of 150 hours of instruction (44 one-student-per-truck driving hours) conducted over 4-5 weeks. Meets the needs of students with no prior knowledge or experience in truck driving interested in getting a Class A CDL License and a good truck driving job. Our most popular program!

**Grants through the Wyoming Department of Family Services are available for those who qualify! This grant will cover ALL of your expenses to enroll in our 4-week truck driver training program. The grant even pays living expenses if you are coming from out of town.


Contact us today to take advantage of this amazing opportunity to get your CDL and enter the trucking industry. Truck drivers are in high demand today, more than ever!

Available at these locations