Connect now with local schools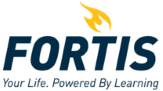 Available Programs
HVAC

Building Systems, Construction, and Manufacturing

The Heating, Ventilation, Air Conditioning and Refrigeration (HVAC) training program at Fortis prepares students for entry-level employment as an HVAC Technician. In the field, HVAC Technicians are also known as HVAC mechanics or HVAC installers. The HVAC program at Fortis includes training in computerized diagnostics so students will be able to service and repair today's complex systems for commercial refrigeration, gas heat, heat pumps, and air conditioning.

Welding Technology

Building Systems, Construction, and Manufacturing

The Welding Technology training program is designed to train individuals for entry into the field of welding as industrial welders, welding apprentices or check welders. The Fortis welding training programs in Georgia and Ohio instruct students in mathematics and welding print reading in order to enhance their understanding of the basic requirements of the job. Welding symbols are also studied as well as the methods of destructive and non-destructive testing used in welding to determine what constitutes a quality weld.

Dental Assistant

Medicine and Health Care

Duties of a dental assistant are among the most comprehensive and varied in the dental office. Dental assistants perform a variety of patient care, office, and laboratory duties. These tasks require both interpersonal and technical skills.

At Fortis, the dental assistant training program will provide you with hands-on strategies and techniques to work in the treatment or operation room directly with the dentist. Students will be shown how to work chair-side as dentists examine and treat patients. Dental Assistants can work in private and group dental practices, specialty dental practices, mobile dental units, insurance companies, hospitals, nursing homes, dental school clinics, and public and private health facilities.




Expanded Functions Dental Assistant Associate in Specialized Technology Degree offered at: Scranton, Landover

Medical Assisting

Medicine and Health Care

As medical technology continues to advance, doctors are increasingly relying on medical assistants to help with various patient care needs. Most medical assistants work in the offices of physicians while others work in public and private hospitals, inpatient and outpatient facilities, the offices of other health practitioners such as chiropractors and optometrists, and in nursing and residential care facilities.

According to the Bureau of Labor Statistics, employment of medical assistants is projected to grow much faster than average nationally, which ranks medical assistants among the fastest growing occupations over the 2008-2018 decade, and job prospects for skilled medical assistants should be excellent.

Pharmacy Technician

Medicine and Health Care

Pharmacy Technicians are trained health care professionals who work in both hospitals and retail pharmacies under the supervision of a pharmacist. Pharmacy Technicians prepare and fill prescriptions under the direction of a pharmacist, issue medications, and label and store supplies. If you are interested in a career working alongside pharmacists, then consider the Fortis pharmacy technician training program at a school campus in Alabama, Florida, Georgia, Maryland, New Jersey, Ohio, Pennsylvania or Tennessee.

Graduates of Fortis pharmacy technician training program will have learned the basic aspects of pharmacy practice, including reading, filling and distributing prescriptions. Our pharmacy technician program students will understand the legal responsibilities of a pharmacy for record maintenance and the handling of various categories of drugs. In addition, the program teaches basic pharmaceutical calculations, medications, common drug interactions and their side effects and pharmaceutical agents and their uses.

Dental Hygiene

Medicine and Health Care

A career in dental hygiene is both fulfilling and challenging, making it a profession that continues to be in high demand. If you dream about being in a healthcare service profession that requires you to have extensive knowledge and clinical training, while being able to develop trusting relationships with patients, dental hygiene will be a great fit for you.

The tasks hygienists perform, and the extent that they must be supervised by a dentist, will vary by state and place of employment. However, in general, dental hygienists typically do the following, which are skills you will learn in our dental hygienist program:

Remove tartar, stains and plaque from teeth
Apply sealants and fluorides to help protect teeth
Take and develop dental x-rays to check for tooth or jaw issues
Assess patients' oral health and report findings to dentists
Document patient care and treatment plans

Medical Office Administration

Medicine and Health Care

At Fortis, the Medical Office Administration program trains students to acquire the skills and capabilities in a variety of medical office assistant procedures, and the skills necessary for entry-level employment in a medical practice. The medical office administration training skills acquired include bookkeeping, billing and collection, records management, patient data collection, keyboarding, transcription, word processing, appointment scheduling, written correspondence and telephone techniques.

Upon completion of the medical office assistant training, students will be qualified to assume entry-level careers as a medical office assistant, medical secretary, medical biller/collector, and insurance claims processor performing the medical office duties described above.



Accreditation