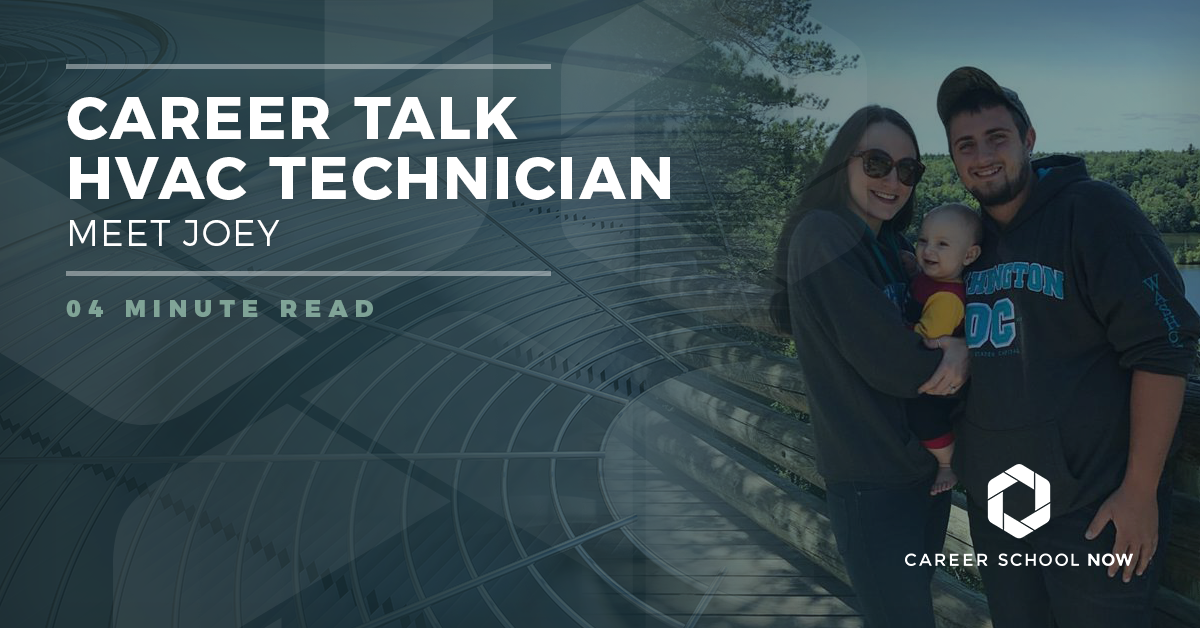 Joey is an apprentice preventative maintenance technician with Fire & Ice Mechanical in Sterling Heights, Michigan. He was looking for a career that would provide him and his family with security, plus he wanted to be a part of an evolving trade, one where he could grow.
"I never wanted to have a pushy desk job and sit in front of a computer all day, but I wanted a job that would provide a good living, so I wouldn't have to struggle in the future."
WHAT DO YOU LIKE MOST ABOUT YOUR HVAC CAREER?
I like that it's constantly changing, and regulations and codes are always being updated. I also enjoy working with a great bunch of smart technicians that I've learned a lot from. The best feeling is going to a location with the intention to fix a comfortability problem in someone's home or workplace, and possibly making it even better than it was before.
WHAT ARE YOUR TYPICAL DUTIES?
One of my main duties is changing air filters so that air quality is best and less dust/germs build up in a building's air system. My other duties include changing supply air belts, checking refrigerant pressures and temperatures, cleaning and maintaining heating components (such as flame sensors or hot surface ignitors), and changing bad contactors.
Find out more about careers in HVAC.
WHAT DO YOU THINK STUDENTS SHOULD BE AWARE OF BEFORE GOING INTO HVAC?
This job isn't a walk in the park. You work very hard, long hours and have to constantly think about your safety to get the job done efficiently.
You find yourself working in a lot of confined spaces, so if you're claustrophobic, then this may not be the best job for you. Also, if you're afraid of heights, then this may not be the best field since you're constantly on rooftops. Finally, if you don't like getting dirty daily, this job won't be a good fit.
But for the tradesmen and tradeswomen who want to pursue HVAC, don't be afraid of mistakes. Instead learn from them so they don't become hurdles in your job. Confidence is key. Be confident in your work, but if you're not, don't be afraid to ask for help!
WHAT ARE SOME THINGS TO CONSIDER WHEN PICKING OUT A SCHOOL?
Find an HVAC training program near you.
Things I looked for were career opportunities and benefits from the school. One thing that made a big impact for me when deciding was that my institute provided tools I would be using in the field. HVAC tools are not cheap by any means and being provided them as a part of my tuition was a huge help. I also looked for a school with flexible hours so that I could work and have a life outside of my schooling.
WHAT IS HVAC TRAINING LIKE?
I attended school at Everest Institute, which is now called Altierus. School was very fast paced and eager to get students in the field as quick as possible. My specific course was a nine-month program—four hours a day, five days a week.
It was never easy, and it took a lot of determination and positive support from my family to get to where I am today. I was at a very low part of my life when I started school. I'd wake up three hours before school to donate plasma to earn money so I could put gas in my car just to get to school. In those nine months I went through two cars, two jobs, a move, and my first son was born. But I had the support of my fantastic fiancé/mother of my child. She's my rock, and I wouldn't be the person I am today without her.
Take a free HVAC tech practice test.
KNOWING WHAT YOU KNOW NOW, WOULD YOU STILL BECOME AN HVAC TECH?
Absolutely, I wouldn't change a thing when looking back at my choice. I'm always proud of myself for having a job I love. I'm happy that I don't work for a company that only sees dollar signs when they look at their employees, but a company that instead helps you in times of need and supports you. There are a lot of great businesses to work for in the field that can teach you a lot.
HVAC is a fantastic growing career that's always looking for new tradesmen and women willing to work hard and make a good living.